In Stock
Part #: SG-3Y-EW-L-2000
Model:

SVCM-PBXT-20003AR
3-Yr Extended Warranty (Extends 1-Yr to 4-Yrs w/ Advance Replacement) for UC 2000
For discounted dealer pricing, or to make a purchase, please sign up to become a dealer or sign in to your account.
Become a Dealer
Sign In
Extend the manufacturer's hardware warranty and advance replacement policy to a total of 4 years for your Sangoma PBXact UC 2000 Phone System.
Product Description
The Sangoma PBXact UC 2000 Extended Warranty is a 3 year extended hardware warranty. This warranty must be purchased within 1 year from your phone system's original invoice date. This warranty extends the original manufacturer's warranty by 3 years, giving you a total of 4 years of coverage.
Includes Advance Replacement
This item also extends the Advanced Replacement (RMA) coverage from 1 to 4 years. This means that for the next 4 years, if you experience a system failure, we'll overnight ship you a replacement part at no cost! We'll also pay the costs to ship the defective part(s) back to us!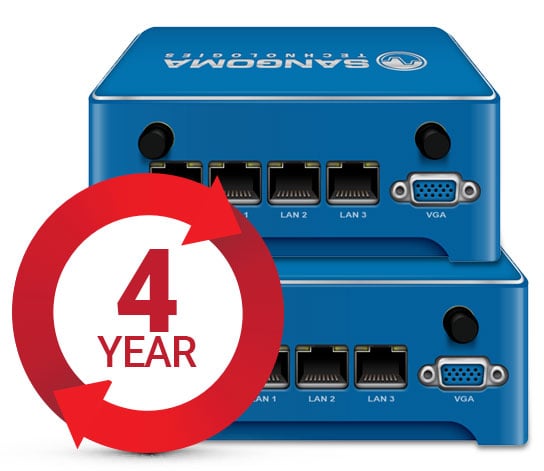 How the Advance Replacement Works:
Call us to report a down phone system, and our technicians wil determine if a replacement part is needed
Purchase a replacement part for the defective part (you will be full refunded when the defective part is returned)
We'll overnight ship your new part for free, via UPS Next Day Air
You install the new part and get your customer back in business
We'll send you a pre-paid UPS shipping label so you can return the defective parts back to us for free
As soon as we receive the defective part, we will issue you a 100% full refund for the replacement part
Advance Replacement Details
Extended 3-Year Sangoma Advance Replacement Policy:
If an Advanced Replacement RMA Add-on is purchased and still active Sangoma agrees in the event of a hardware failure to ship a replacement unit prior to receiving the defective unit back as outlined in our Warranty Agreement.
Customer shall open up a RMA ticket at https://ussupport.sangoma.com under the RMA Department.
A representative will review your request and if a RMA is deemed needed a replacement unit will be shipped to the Customer within 1 business day after approval.
Customer shall provide a valid Credit Card to be used in the even the defective RMA unit is not returned.
Customer is responsible for all shipping cost of the RMA units.