In Stock
Part #: LL-CRA-2L-8GB-SD
Model:

LL-CRA-2L-8GB-SD
Line Logger Call Record & Accounting - 2 Line - 8 GB / 560 Hrs. SD Storage
For discounted dealer pricing, or to make a purchase, please sign up to become a dealer or sign in to your account.
Become a Dealer
Sign In
Product Description
Phone System Features
The Line Logger Call Recorder is a compact, standalone call recording solution for those wanting full-time recording on up to 8 lines without the need for a host PC. It's the perfect solution for a single location business, home office user or for multi-location businesses wanting to record branch locations, yet store and manage calls centrally.


The Call Recorder is available in 2, 4 or 8 line configurations. The device ships with an 8 GB SD card that allows up to 560 hours of storage on the device, longer term storage is enabled by setting a network drive location for automatic back-up using the Call Recorder Management Software. Using this option extends your storage to meet virtually any requirement (1TB drive will store 70,000 Hours).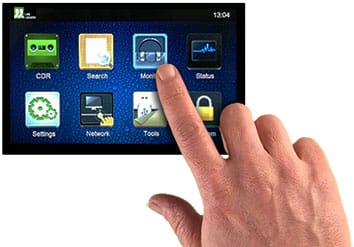 Key Features
• Live Call Monitor
• Caller ID, search by Caller ID or Number Dialed
• SMDR Integration, allows for search by extension
• Optional Auto-Announcement Greeting
• Start/Stop Recording Using DTMF Controls
• Manager Alert of Calls In or Out to Specific Numbers
• Track unanswered calls, ring times and line status
• Power Status & device tampering reporting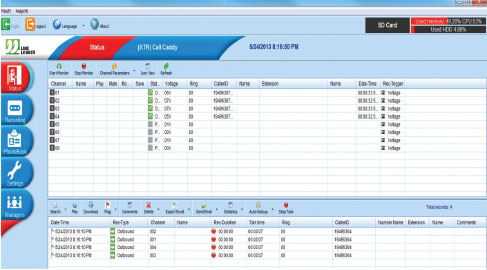 Call Management Software
Line Logger Call Management Software allows you to interface to the Call Recorder via your Local Area Network and review the calls stored on the Call Recorder. Calls can be played directly from the Management Software or transferred to your PC for storage.

Live Call Monitoring
Monitor all lines, in real time and get details such as the line status, caller ID, whether the call was inbound or outbound, and more.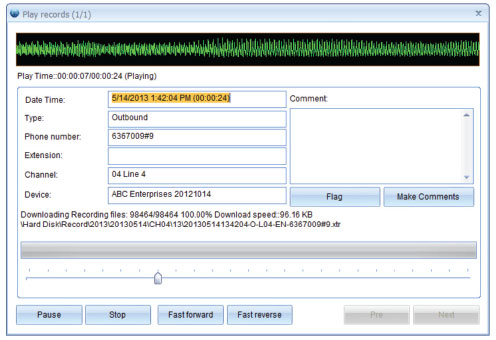 Play Recorded Phone Calls
Listen to all of your recorded calls, right from the software. Important recordings can be flagged and comments can be added.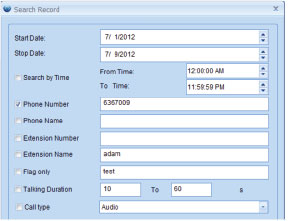 Search Records
Easily search for recordings by date, time, phone number, extension number, flags, duration, and more.