This Tech Tip demonstrates how to upload a music on-hold WAV file to the the system using the WebPro portal. This tip applies to the NEC SL2100 Phone System only.
Note: Greetings can ONLY be loaded to the NEC SL2100 through the WebPro portal. You can not use PCPro to accomplish these steps.
On-Hold Message file MUST be under 2MB and formatted as an 8-Bit, 8Khz, Mono WAV file.
Logging in to WebPro
1. Open a web browser and type the phone system's IP Address in to the URL Address bar
(Click here to learn how to locate the SL2100 IP Address)
2. Login to WebPro with the following credentials:
User Name: USER1
Password: 1111
3. Click the Login button
Professionally Recorded
On-Hold Messages & Voicemail Greetings
Help your customers sound great today!
More Info
WebPro Programming Steps
1. On the top of the home screen, click on the speaker icon

2. On the left sidebar, click on the "VRS Audio Up/Download" link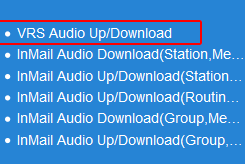 3. In the Message No. (1-100) search bar, enter the number 1
4. Click the "Browse" button
5. Navigate to the audio file on your computer and select it
6. Click the "Upload" button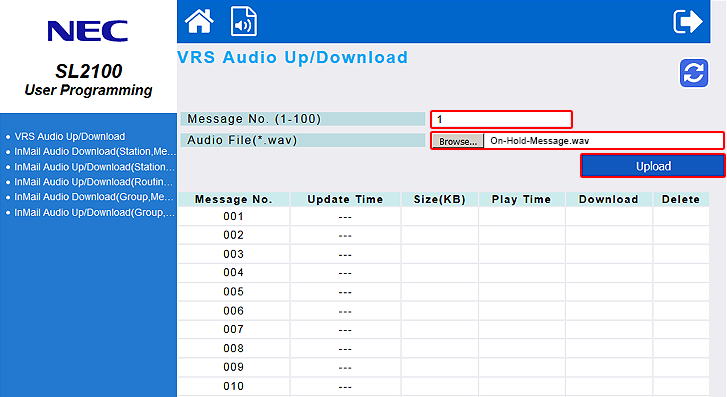 The greeting will become active immediately
Testing Your Greetings

To confirm that the file has loaded properly, perform the following steps from Extension 101:
1. Lift the Handset of Extension 101 or press the "Speaker" key
2. Dial "616 5 001" on the numeric key pad
3. The message will begin to play
Note: 001 represents the VRS message number 1. If you uploaded the greeting in to Message No. 2, you would dial "616 5 002", and so on.