The NEC SL2100 offers up to 100 VRS messages that can be played over an external paging system. This feature is very useful for emergency messages, school bell tones, or any other commonly used message you'd like to broadcast over the paging system.
Required Equipment
External Paging System
8-Port Digital Extension Card (1 Page Zone per card)
IMPORTANT: Messages do not repeat on playback! So, for emergency messages, repeat the message while recording it.
Our pre-loaded on-hold message is recorded in VRS mailbox 001. In order to not erase it, only use VRS messages 002 through 099.
Recording the VRS Messages
Perform the following steps from an extension with VRS access:

1. Dial 616 + 7 + [002-099]
2. Begin recording
3. To preview the recording over the handset, dial 616 + 5 + [002-099]
Playing the VRS Messages Over the Paging System
To play the message over ALL page zones:
Dial 703 + * + 0 + [002-099]
To play the message over a specific page zone:
Dial 703 + * + [page zone number] + [002-099]

Assigning the VRS Message to a DSS/One-Touch Key
For easier use, the feature code can be assigned to a DSS/One-Touch key.
1. Go to Program 15-07: Function Keys
2. Use the Extension dropdown menu, to choose the extension you wish to add the function key to.
3. Set the function key to "01-DSS/One-Touch"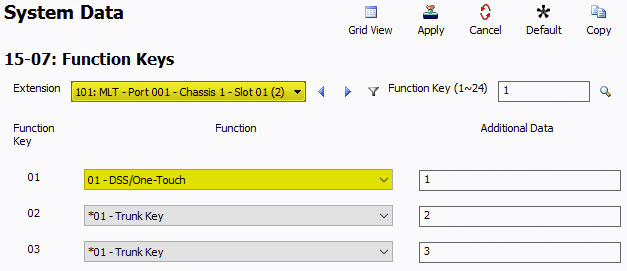 4. A pop-up window will open. Type the feature code and VRS message number to play when the One-Touch Key is pressed.
Example: 703 + * + 0 + 002