This Tech Tip will demonstrate how to set Time Zone settings using both the NEC PCPro Software and through a web browser using WebPro.
Get Connected
This Tech Tip requires access to the phone system using NEC PCPro Programming Software. To download the latest version of PCPro or for instructions on how to connect your computer to the phone system, please read the following: How to Connect to the NEC SL2100 or SL1100 Phone System for Programming.
Do you need more support?
Check out our NEC SL Tech Support plans.
Support Plans
PCPro Programming Steps
1. Go to Program 10-01: Time Zone
2. Use the dropdown menu to select the location for your time zone
Shortcuts:
Eastern time, use America/New York (152)
Central time, use America/Chicago (87)
Mountain time, use America/Denver (96)
Pacific time, use America/Los Angeles (133)
3. Apply and upload your changes
WebPro Programming Steps
1. Click on the System Data button

2. Use the 10-01-09: Time Zone dropdown menu to select the location for your time zone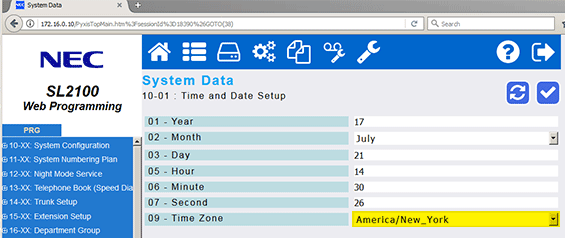 Shortcuts:
Eastern time, use America/New York (152)
Central time, use America/Chicago (87)
Mountain time, use America/Denver (96)
Pacific time, use America/Los Angeles (133)
3. Apply your changes